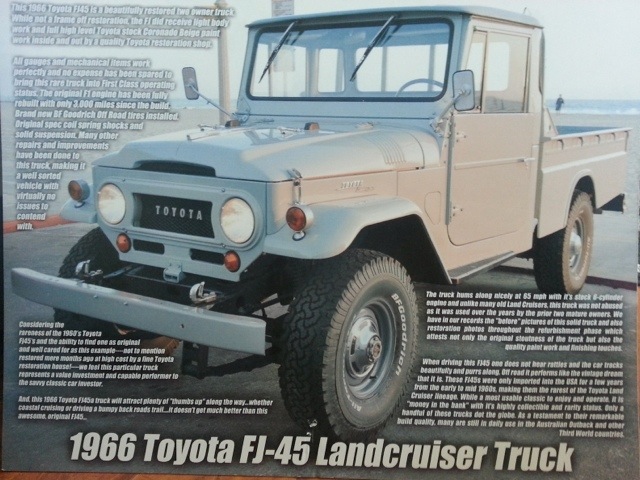 Via ebay listing:
This 1966 Toyota FJ45 is a beautifully restored two owner truck.
While not a frame off restoration, the FJ did receive light body work and full high level Toyota stock Coronado Beige paint work inside and out by a quality Toyota restoration shop.
All gauges and mechanical items work perfectly and no expense has been spared to bring this rare truck into First Class operating status.The original F1 engine has been fully rebuilt with only 3,000 miles since the build. Brand new BF Goodrich Off Road tires installed. Original spec coil spring shocks and solid suspension. Many other repairs and improvements have been done to this truck, making it a well sorted vehicle with virtually no issues to contend with.
The truck hums along nicely at 65 mph with it's stock 6-cylinder engine and unlike many old Land Cruisers, this truck was not abused as it was used over the years by the prior two mature owners. We have in our records the "before" pictures of this solid truck and also restoration photos throughout the refurbishment phase which attests not only the original stoutness of the truck but also the quality paint work and finishing touches.
When driving this FJ45 one does not hear rattles and the car tracks beautifully and purrs along. Off road it performs like the vintage dream that it is. These FJ45s were only imported into the USA for a few years from the early to mid 1960s, making them the rarest of the Toyota Land Cruiser lineage. While a most usable classic to enjoy and operate, it is "money in the bank" with it's highly collectible and rarity status. Only a handful of these trucks dot the globe. As a testament to their remarkable build quality, many are still in daily use in the Australian Outback and other Third World countries.
Considering the rareness of the 1960's Toyota Fj45's and the ability to find one as original and well cared for as this example. Restored mere months ago at high cost by a fine Toyota restoration house!
We feel this particular truck represents a value investment and capable performer to the savvy classic car investor.
And, this 1966 Toyota FJ45a truck will attract plenty of "thumbs up" along the way…whether coastal cruising or driving a bumpy back roads trail….it doesn't get much better than this awesome, original FJ45…
"YOU GOT IT TOYOTA!"
A good friend of our is parting with one of his rare classic finds.
Three speed on the floor was a change-out, done years ago—a three on the three column shifter. Only non stock modification. Still has the coil springs—most of these are now long gone.
Brand new brakes, battery, all fluids, all new seals, new main seal, new clutch slave and seals, new "steering pittman arm" replaced for super tight steering. Transfer case for 4wd works perfect. Brand new BF Goodrich tires, freshly painted stock rims and hubcaps. Warn locking front hubs. Original Toyota spec F1 engine—-era correct. Original Toyota carburetor replaced with Chevy carburetor. All wiring gone through, all lights work, both wiper motors rebuild and work perfectly. Heater works awesome. New wiper blades. New bumper. Horn works as do all turn signals. New door seals and window rubber.
This FJ 45 was made available to the US market for only 4 years only from 1963-1967. Sold throughout Canada, Australia and South America, many are still performing in the Australian Outback to this day. The FJ45 model in Australia is proudly praised, and known by many as Hi Lux.
The Toyota FJ45 is the golden child of Toyota's due to it's very rare nature and these models are steadily going up in value as collector's prize this rare and most usable truck. This particular version benefited from long ownership by a mature owner and unlike many work trucks was not abused while it was used.
The long bed version is the most sought after for it's balanced look and long wheel base. It is nearly 40″ longer than the FJ40. The bed is 7 feet long. This truck can be taken on long trips as it cruises all day at 65 mph. This particular truck has ZERO rattles and suspension is super-strong. All interior has been repainted as well in it's original Toyota Coronado Beige. The 66 is also prized for heavier gauge metal and more retro style than the post 70′s FJ's.