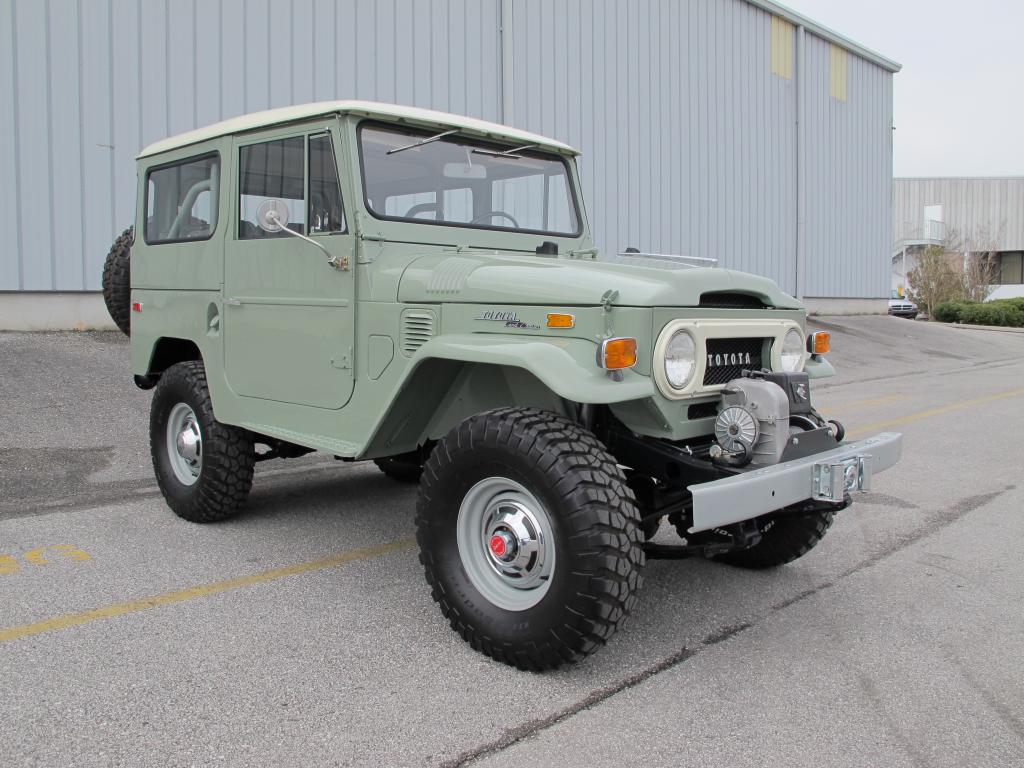 1970 FJ-40 Toyota Land Cruiser (Frame-Off Restoration)
My god…this is one beautiful FJ40…well done..maybe one of the finest we have ever seen…Fashion Green/ Grey on a 7 Year Rotisserie Restoration!
This matching numbers FJ-40 was rescued from the Nevada desert in amazingly original condition. It was complete and unmolested, right down to the original factory hose clamps. The truck was completely disassembled and underwent a restoration that was completed in September of 2013. The entire powertrain was completely rebuilt reusing the restored original components such as the alternator, carburetor and starter. The engine was bored .040″ over and received a new cam, lifters, pistons, timing components, bearings, gaskets and seals. The transmission, transfer case and axles were meticulously rebuilt, receiving new bearings and seals throughout. All of the vehicle's components were reassembled with the original replated bolts and hardware. Genuine Toyota parts were used throughout the restoration and great care was taken to preserve or recreate the factory paint marks and part labels. The same care and attention was given to the underside of the vehicle. The frame, axle housings, all of the chassis and steering components, as well as the bumpers and wheels were powder coated in their original colors. All of the original brake and fuel hard lines were replated and reused. The body retains it all of its original sheet metal and floors. It was completely stripped to bare metal, epoxy primed and finished on a rotisserie using high quality PPG Deltron paint in the rare original Toyota Fashion Green color. All of the rubber components were replaced during reassembly and with the exception of the wing and corner windows, all new tempered glass was installed. Almost all of the original hardware, such as the bolts, nuts, hose clamps, hard lines and brackets were individually hand stripped, re-plated and reused. The original wire harness was restored using new brass terminals and new plastic connectors. The interior upholstery was faithfully reproduced and even the characteristic spot weld "dimples" were carefully preserved on the exterior of the body. We will ship all over the world.
If you enjoy LandCruiserOfTheDay…Please consider clicking through and checking out the great Roof_Top tent at iKamper. It helps keep this site going and you never know what cool stuff you may find. Thanks! Benjamin.