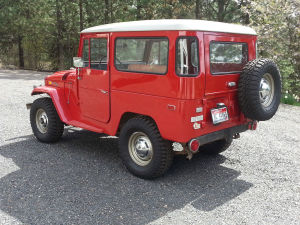 Professionally repainted before I bought it
I cannot say for certain but the previous owner said the currently shown mileage of 41,936 is accurate.
Everything is stock except the mirrors.
Runs Great – Steers Straight – Brakes Work
All gauges, odometer and speedometer work.
5 New Tires
Rebuilt stock carburetor
Idaho vehicle – minimal surface rust on bumpers
Driver and passenger seats have been reupholstered – jump seats have not.